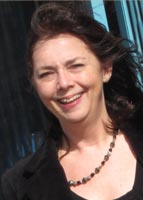 I began designing websites in the mid 90s, when websites only had grey backgrounds. Having learned to design websites from the ground up has given me a wonderful grasp of how often new technologies come and go, and that my policy of keeping things simple has paid off over and over again.
I worked for 13 years as Manager of Web Services with one of BC's largest privately owned Internet Service Providers. I constantly met with small business owners who wanted a web presence, but were desperate to keep things uncomplicated so they could understand the process and keep costs from escalating out of hand. I developed Simple Sites Web Design as a perfect solution to this growing need.
Along with my experience in developing business websites, I also became an editor for the Open Directory which gave me a first-hand glimpse into the fascinating inner workings of search engines. I am also very pleased to have won the 2001 Today's Woman Award for Internet Promotion.
I have a degree in English from Sonoma State University in California and am married with three grown children. After traveling widely in my youth and living in seven different countries, I am happily ensconced in Prince George and have been here since 1975.





SIMPLE: with a touch of class...